Home of Fullblood Savanna's
​at Reasonable Prices.

​MyGoats74864 * Prague, OK
​​
click
here
to go to our Facebook page
​
Our farm is a small family-run operation. This allows us time to watch and evaluate the goats as they grow and mature. Our goats are treated kindly and are raised friendly. We rotate our goats every 30 days through our pastures and woodlots allowing them fresh forage. Our goal is to produce the best quality Savanna breed stock at a reasonable price. We have carefully selected bloodlines that go back to original import animals. Click on our Savanna History tab for details. We also take great care in managing our herd and our land.
We Made the News!!
​
Article on the Savanna goat breed and some pictures of our goats.​
​
Ranch and Rural Living - September 2014 - page 25​
​
​Meat Goat Monthly News - October 2014 - page 9
Article on the Savanna goat breed
Leo Deutsch
101933 S Hwy 99
Prague OK 74864​​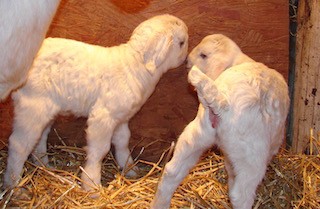 Descendants of the Original Savanna Goats